Home
---
We provide clear-cut solutions to our client's energy, and facility management systems problems.
Our focus is in delivering cost effective, reliable solutions that our customers can
understand, and afford. Realistic energy savings, safe, reliable facilities are the end result of quality
design, installation, systems support, and service. Many can talk about delivering; few excel at it.
Over the years, technology for facility management equipment, and systems have
developed to very standardized, and predictable products. It is no longer a industry
where the client has to worry as much about product A versus product B.
Now more important than ever, it is service provider's ability to deliver quality designs, installations,
and systems support, that counts the most. If they do not treat your system like it is their own,
do you want them working on yours?
Our business is to work together with our customers to bring sensible solutions, and
this has created some very long term relationships with many of our clients.
We stay focused on delivering on our commitments to our clients, and that has taken
care of us very well. We understand that we need to be cost effective to help our clients
achieve their goals.
Our commitment to provide quality service, and cost effective solutions, is what keeps our clients satisfied.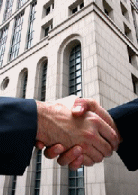 ---
TMC Home | About Us | Services | Products | News | Resources | Projects | Contact Us | FAQs | Site Map

The Mulkern Company © 2008, All rights reserved